Today's guest is Dr. Roshan Sethi, a radiation oncologist at Brigham and Women's Hospital who completed medical school and residency at Harvard University. He discovered his passion for screenwriting while an undergraduate at Yale and has since made it his mission to consult and write for television and film. He has created, written, and consulted for a number of television shows including Black Box, Code Black, and currently airing on Fox, The Resident. He has also written a number of feature films, which are set for production.
We had the chance to discuss how he broke into Hollywood, the difference between writing a novel and writing for TV, and how writing has helped him be a more empathetic doctor. He has lots of fascinating ideas and tons of book recommendations too! So, ladies and gentleman, please enjoy my interview with Dr. Roshan Sethi.
Show Notes
(00:02:13): Growing up in Canada, you did not have television growing up. How did you become interested in it?
(00:02:53): What kind of books did you used to read?
(00:03:53): How did you get into screenwriting?
(00:05:55): What did you like about screenwriting versus literary fiction writing?
(00:06:49): What TV shows or movies influenced you to believe that you could write TV or movie scripts?
(00:09:18): How did you create the opportunity to become a medical consultant for a TV show?
(00:10:34): Did you ever feel uncomfortable sending cold emails?
(00:12:04): How did you create your pitch?
(00:13:34): What kind of advice do you give to people who email you?
(00:16:02): What is your creative process like? How do you sit down and write?
(00:17:30): Do you think it is possible for an artist to evaluate their own work?
(00:18:30): Once you got into the door, what kind of shows did you work on?
(00:20:38): After you were let go, was there ever a time where you doubted yourself?
(00:21:43): How was The Resident created?
(00:22:54): What is the difference between being a creator, being a consultant, and being a screenwriter for a television show?
(00:23:46): What is your current capacity with The Resident?
(00:24:15): How did you make the decision to leave one passion for another?
(00:25:11): You put a lot of effort into creating a diverse cast for the show. Why was that so important to you?
(00:26:40): How do you balance being realistic and being sensational in screenwriting?
(00:29:01): How does writing and creativity affect your medical career?
(00:30:50): What are some projects that you are working on now?
(00:31:28): Where can people find you?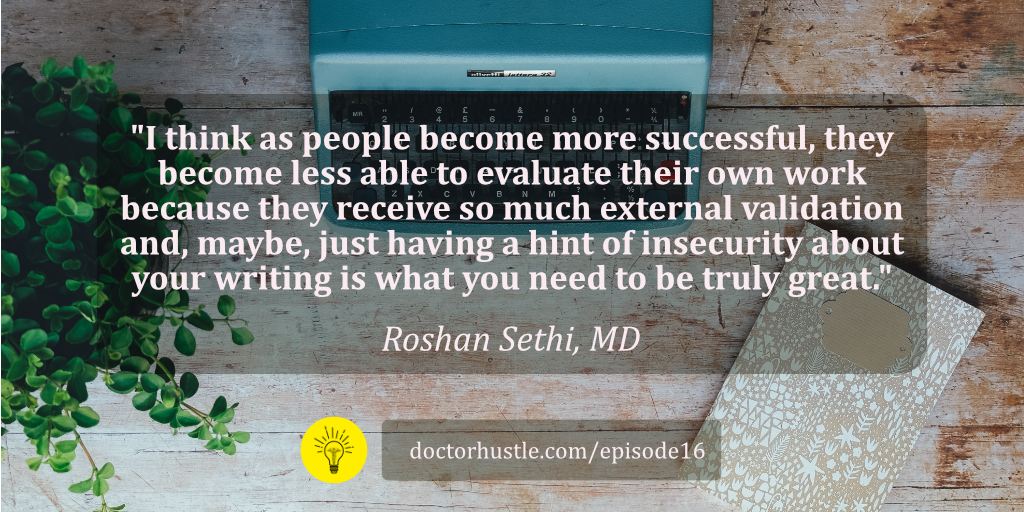 Selected Links
Books Mentioned
People Mentioned
Movies/TV Mentioned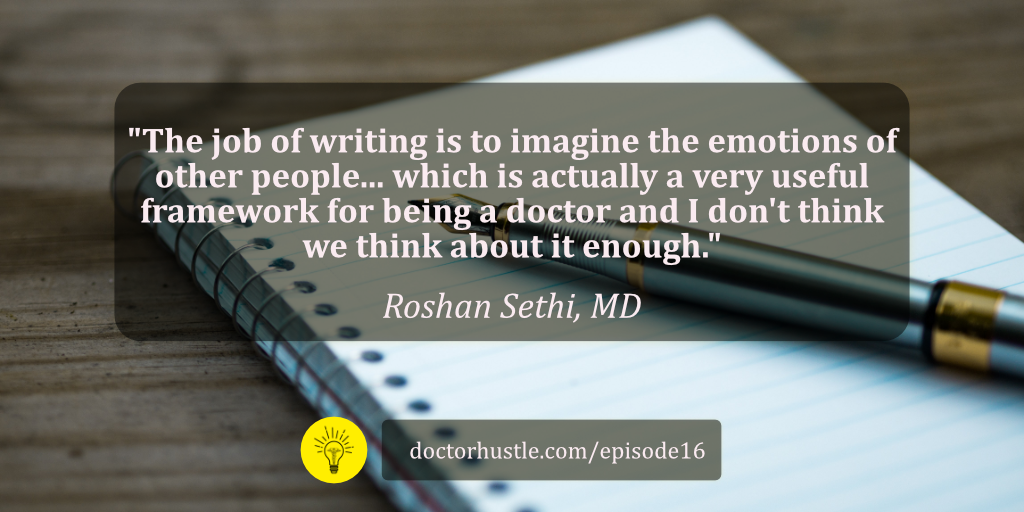 Music
Music by Lee Rosevere – Sad Marimba Planet from freemusicarchive.org
"The arts are not a way to make a living. They are a very human way of making life more bearable. Practicing an art, no matter how well or badly, is a way to make your soul grow, for heaven's sake. Sing in the shower. Dance to the radio. Tell stories. Write a poem to a friend, even a lousy poem. Do it as well as you possibly can. You will get an enormous reward. You will have created something."

– Kurt Vonnegut