While working in the field of medicine can certainly be rewarding, it seems to be, more often than not, physically exhausting, depressing, and mentally draining.
But our next guest has been using his gifts in graphic art to help empathize with the struggle and give us a little reprieve when the it all just seems too much.
Dr. Mike Natter was born and bred in Manhattan and has been drawing ever since he was a toddler. He discovered his calling in medicine after being diagnosed with type 1 diabetes at the age of 9. He later attended Skidmore College, where he studied studio art and neuropsychology. He received his medical degree from Jefferson Medical College, and is currently completing his internal medicine residency at NYU, while planning to pursue a fellowship in Endocrinology.
He has been featured and published in numerous places including the Philadelphia Inquirer Newspaper, the Annals of Internal Medicine, and Art Basel in Miami. He has lectured on Graphic Medicine, and, of course, has a wildly popular instagram account.
After you hear his story, don't be surprised if you find yourself wandering through the art section of your local pharmacy looking to add more color to your life. That's precisely the point.
Show Notes
(00:02:08): What is the piece "Calloused Fingertips" and what were you trying to say with it?
(00:06:30): Is boredom or being bored necessary for creativity?
(00:07:52): Diabetic or person with diabetes? Do you have any thoughts?
(00:08:40): Do you consider yourself a doctor or artist first?
(00:09:08): Talking about imposter syndrome.
(00:11:12): What does it take to make it in the art world?
(00:13:28): When it comes to being a doctor or a patient, you consider yourself a patient first. And often the proceeds of your work go to the Juvenile Diabetes Research Fund. Can you talk about that work?
(00:16:32): Who have been your artistic inspirations?
(00:19:46): Your path to medicine was not straightforward. And it was actually your artistic talents that opened the door. How did that happen?
(00:24:53): What is graphic medicine?
(00:27:00): What graphic artists do you admire?
(00:29:32): Do you think creativity is inherent or do you think it can be learned?
(00:31:12): How can people become more creative in medicine?
(00:34:56): Is there any way you think design thinking falls short?
(00:38:19): Being extremely busy as a resident, how do you maintain a creative output?
(00:41:56): How does the observation that you practice as an artist help your practice of medicine?
(00:43:24): Are you able to find flow quickly when you work? How do you handle "artist block"?
(00:44:10): What tools do you use when sit down to work? And do you use them in your day-to-day work as a doctor?
(00:47:30): What are some things you learned in art school that might have helped in medicine, or even more broadly, that might help in living a healthier life?
(00:51:37): What are your aspirations as a graphic artist in medicine?
(00:53:56): What is the Annals of Graphic Medicine?
(00:55:14): If you could have dinner with anyone in the world, who would it be and why?
(00:55:53): Where can people find you?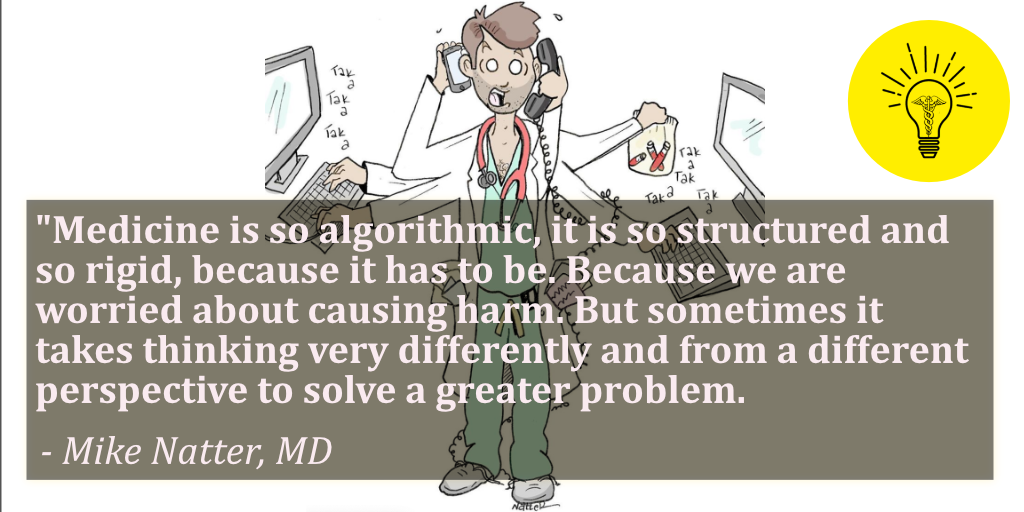 Selected Links
People Mentioned
Econ Chile – 19th century German Expressionist
Ideas and Institutions Mentioned
Books Mentioned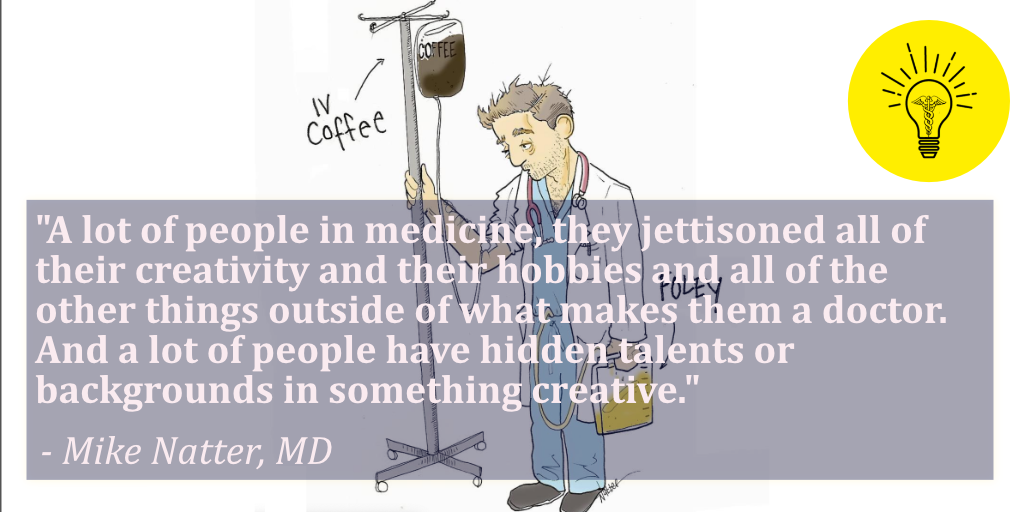 Music
Music by Lee Rosevere – Sad Marimba Planet from freemusicarchive.org
"There are no rules. That is how art is born, how breakthroughs happen. Go against the rules or ignore the rules. That is what invention is about."

– Helen Frankenthaler